Catalogna: l'Europa si schiera con Madrid
Commenti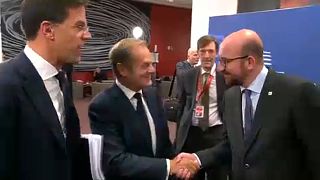 L'Europa esprime sostegno al premier spagnolo Mariano Rajoy nella crisi catalana. Il presidente del Consiglio europeo Donald Tusk ha twittato: "Per l'Unione europea non cambia nulla. La Spagna rimane il nostro unico interlocutore. Spero che il governo spagnolo prediliga la forza degli argomenti agli argomenti della forza".
For EU nothing changes. Spain remains our only interlocutor. I hope the Spanish government favours force of argument, not argument of force.

— Donald Tusk (@eucopresident) 27 ottobre 2017
Il presidente della Commissione Jean-Claude Juncker ha parlato dell'importanza di evitare divisioni e fratture all'interno dell'Unione europea. "Non voglio, domani, un'Unione fatta di 95 Stati diversi", ha commentato.
Anche per il presidente francese Emmanuel Macron c'è un solo interlocutore. "Mariano Rajoy – ha detto Macron – vuole che le regole siano rispettate e ha il mio pieno sostegno".
In un comunicato il governo tedesco ha affermato di non riconoscere la dichiarazione d'indipendenza e di sostenere la "chiara posizione" di Rajoy. Berlino ha anche invitato le parti a tornare al dialogo.
Anche per il premier belga Charles Michel, "Una crisi politica si può risolvere solo attraverso il dialogo. Invitiamo a trovare una soluzione pacifica nel rispetto dell'ordine nazionale e internazionale", ha twittato.
A political crisis can only be solved through dialogue. We call for a peaceful solution with respect for national and international order

— Charles Michel (@CharlesMichel) 27 ottobre 2017
E infine Gianni Pittella, presidente del gruppo dei Socialisti e Democratici al Parlamento europeo, ha espresso "sostegno e solidarietà al Partito socialista spagnolo, al Partito socialista catalano e a tutti gli spagnoli."
In questo triste giorno per l'Europa, esprimiamo sostegno e solidarietà a PSOE</a>, <a href="https://twitter.com/socialistes_cat?ref_src=twsrc%5Etfw">socialistes_cat e a tutti gli spagnoli. #Catalogna

— Gianni Pittella (@giannipittella) 27 ottobre 2017
Dividersi non è la soluzione, nè per la #Spagna, nè per la #Catalogna, nè per l'Europa.

— Gianni Pittella (@giannipittella) 27 ottobre 2017