Parata di vip al Met Gala 2021, l'evento più glamour di New York
Commenti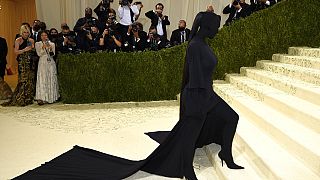 Le star tornano a calcare i red carpet. Anche quello del prestigioso **Met Gala **di New York, l'evento di raccolta fondi a beneficio del Costume Institute del Metropolitan Museum of Art.
La notte più glamour della grande mela che ha visto sfilare le celebrities di Hollywood al gran completo. Dopo lo stop forzato dello scorso anno causa Covi, il Met Gala ha riacceso i riflettori sullo star system internazionale. Tanti nomi noti per l'apertura della mostra dal titolo "In America: A Lexicon of Fashion", la più importante esposizione di moda del Museo newyorkese.
Tre presidenti – lo stilista Tom Ford, l'head di Instagram Adam Mosseri e, naturalmente, Anna Wintour – e ben 4 padroni di casa a presentare la serata – Timothée Chalamet, Billie Eilish, la poetessa Amanda Gorman e la tennista Naomi Osaka.
A spiccare tra gli stravaganti abiti dei vip presenti, quello di Alexandria Ocasio-Cortez. Non un semplice abito, ma un vero e proprio manifesto socio-politico. Sul lato b della deputata dem americana una sfolgorante scritta rossa. "Tax the Rich", ovvero "Tassate i ricchi".
A parte questa nota di colore, un dress-code total black e pochi fronzoli. Un omaggio alla grande moda americana degli anni Cinquanta e Sessanta e la voglia di ricominciare dall'essenziale per ripartire.