Usa senza più 'speranza'. Si dimette Hope Hicks, direttrice della comunicazione della Casa Bianca
Commenti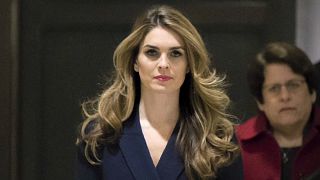 Hope Hicks si dimette da direttrice della comunicazione della Casa Bianca. È il quarto direttore che a lasciare nel giro di un anno.
Le dimissioni arrivano all'indomani dell'audizione di Hicks, una delle collaboratrici piu' strette del presidente, alla Camera nell'ambito delle indagini sul Russiagate. sembra però stando a indiscrezioni, considerasse da tempo la possibilità di lasciare.
Le dimissioni della Hicks, ex maniquin, 29 anni, per Julie Pace sollevano molti dubbi:
AP Washington Bureau Chief Julie Pace said the decision might have come as a result of Hicks being at the centre of one major controversy in the Trump presidency: the special counsel Robert Mueller's investigation into possible ties to Russia.
Julie Pace, giornalista di Ap a Washington:
"Giusto il giorno prima delle sue dimissioni, si trovava a Capitol Hill dove ha risposto alle domande dei parlamentari per ore. È una persona con cui la squadra del procuratore Mueller avrebbe voluto parlare del Russiagate
 Ex modella, 29 anni, la Hicks lavora per la famiglia Trump da anni.