Trump inventa un nuovo Stato, la 'Nambia'
Commenti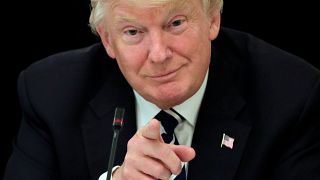 La rete non ha perdonato il presidente americano quando durante un pranzo di lavoro a New York con diversi leader africani ha elogiato la "Nambia, un Paese il cui sistema sanitario è sempre più autosufficiente". Più volte poi il presidente ha continuato sbagliare il nome di quella che, evidentemente, è la Namibia.
#Nambia, quella vicino alla #Zamibia si sa… #DonaldTrump#UNGA2017#fenomeno

— Matteo Sassano (@LittleMarySt) 20 settembre 2017
Support Nambia! And also Pambia. Support the Nambi-Pambi!

— retainyerdiggity (@retainyerdiggit) 21 settembre 2017
Nambia ……capital city Covfefe

— David Macdonald (@Neidr67) 21 settembre 2017
Il presidente americano ha anche evidenziato il potenziale commerciale africano dicendo di saperne perché ha "molti amici che vanno lì per cercare di diventare ricchi".