Budapest: Gran Galà per i Mondiali di judo
Commenti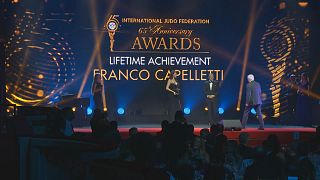 Un parterre d'eccezione a Budapest, in occasione della cerimonia di gala per l'apertura dei Campionati del Mondo di judo al via oggi. Presenti, su invito del primo ministro ungherese Viktor Orban, numerosi personaggi dello sport ma anche della politica e del jet set. Per dare sempre più visibilità a questo sport. La cerimonia è stata un'occasione per onorare i campioni del passato, miti e leggende che hanno reso questa pratica sportiva sempre più amata.
65th anniversary awards of the International Judo Federation in Budapest Opera. #Paris2024 in the place !Thanks IntJudoFed</a> <a href="https://twitter.com/hashtag/JudoWorlds2017?src=hash">#JudoWorlds2017</a> <a href="https://t.co/FSJYySPN9O">pic.twitter.com/FSJYySPN9O</a></p>&mdash; Jean-Philippe Gatien (gatienjp) August 27, 2017
"Sono sempre stato attratto dal judo", ha sottolineato il Presidente della Federazione Francese Jean-Luc Rougé. "Ho ricoperto tutti i ruoli, manager, allenatore, atleta, insegnante in una piccola società. Per me è sempre stato un onore e un piacere, non so cosa avrei fatto per questo sport."
The women's -48kg category and men's -60kg category are being contested today on day 1 of #JudoWorlds2017pic.twitter.com/ZZ7GhEJPlS

— Int. Judo Federation (@IntJudoFed) August 28, 2017
Il Judo ha voluto premiare anche le sue stelle attuali, campioni maschili e campionesse femminili del momento. Tutti presenti al Teatro dell'Opera di Budapest. Una serata fatta di divertimento, di musica e spettacolo prima dell'inizio delle competizioni mondiali di judo.
Durante la serata il Presidente dell'International Judo Federation (IJF), Mariuz Vizer ha premiato Franco Capelletti, icona del judo nazionale nonché uno dei padri del judo azzurro. Classe 1938, è stato l'unico in Italia ad indossare la cintura rossa. Dalla gioventù passata a calciare un pallone ad una vita intera sul tatami.
Judo, Capelletti, a Budapest il 10° dan: "Che sogno!". E' il secondo al Mondo https://t.co/TCSmnwbVDG

— Claudio Valentini (@cldvalentini) August 28, 2017
Ready for the #JudoWorlds2017pic.twitter.com/kAszKYp6k7

— European Judo Union (@europeanjudo) August 25, 2017