Regno Unito: tasso di disoccupazione scende ai minimi da oltre 40 anni
Commenti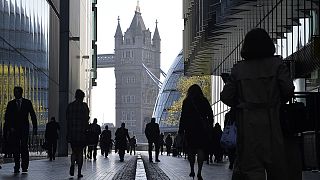 Tasso di disoccupazione ai minimi dal 1975 nel Regno Unito, ma con lo spettro di un aumento nei prossimi mesi a causa della Brexit. I senza lavoro sono il 4,7% negli ultimi tre mesi fino a gennaio, ossia poco più un milione e mezzo di persone, secondo l'Ons.
Anche il tasso di occupazione raggiunge un record, portandosi ai massimi da quasi 46 anni.
#Unemployment rate (for people aged 16+) 4.7% for Nov-Jan 2017; last time lower was 1975 https://t.co/Ff0ljvciPypic.twitter.com/hzwdAW3YT8

—

ONS

(@ONS) 15 mars 2017
Parte dell'aumento è legato ai contratti di estrema precarietà, quelli a "zero ore", che non garantiscono remunerazioni fisse e sono usati soprattutto da albergatori, ristoratori e rivenditori. Riguardano 905.000 persone, il 12,5% in più da un anno all'altro.
905,000 people on zero-hours contracts in their main job in Oct-Dec 2016, 2.8% of all in work https://t.co/llfx4ijraL

—

ONS

(@ONS) 15 mars 2017
All'incremento dell'impiego contribuisce in buona parte l'aumento dei lavoratori autonomi di circa 148.000 unità (negli ultimi tre mesi fino a gennaio rispetto a un anno prima), a quota 4,8 milioni.
4.80 million self-employed people for Nov-Jan 2016, 15.1% of all people in employmenthttps://t.co/zIPUczQATR

— Richard Clegg (@ONSRichardClegg) 15 mars 2017
Ma la salute dell'economia britannica potrebbe peggiorare: è possibile che le imprese decidano di assumere di meno in attesa di maggiore chiarezza sui futuri rapporti con l'Unione Europea.
Altro elemento negativo sono i redditi delle famiglie, aumentati del 2,2%, poco al di sopra dell'inflazione che è in ascesa dal voto sulla Brexit dello scorso giugno.
For Nov-Jan 2017 wages up 2.2% on a year including bonuses, lowest since Feb-Apr 2016 https://t.co/Ff0ljvciPypic.twitter.com/mjmYRsp6rK

—

ONS

(@ONS) 15 mars 2017