Dal South Carolina alla Florida: Trump torna in "campagna" elettorale
Commenti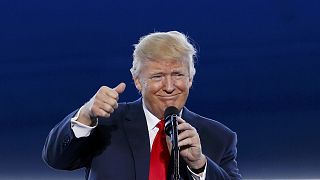 Donald Trump è appena arrivato in Florida per un meeting, deciso a cavalcare di nuovi gli slogan che gli hanno regalato la vittoria presidenziale.
Looking forward to the Florida rally tomorrow. Big crowd expected!

— Donald J. Trump (@realDonaldTrump) 18 febbraio 2017
"Sostenere il made in America": ha detto qualche ora prima in South Carolina parlando davanti ai dipendenti della fabbrica Boeing. Il presidente degli Stati Uniti ha elogiato l'ingegneria americana e la terza variante del Boeing 787 Dreamliner, rilanciando gli impegni assunti quando era candidato: "Durante la campagna ho promesso che avrei fatto tutto quello che è in mio potere per la creazione di nuovi posti di lavoro in America. Abbiamo scelto di rendere più facile, molto più facile, produrre nel nostro paese. E molto più difficile spostare fuori la produzione".
Sanzioni per le imprese che delocalizzano e tagli fiscali: Trump ha ribadito la sua ricetta in un intervento dai toni entusiastici per tentare di dissipare l'impressione di caos sia dentro che fuori dalla Casa Bianca.
Non si fermano, infatti, le proteste contro le politiche sull'immigrazione dell'amministrazione Trump. Ieri per un giorno, gli immigrati di diverse città degli Stati Uniti non hanno lavorato per dimostrare quanto sia importante il loro ruolo nella società.