Regno Unito: PIL in crescita dello 0,6% nel quarto trimestre 2016
Commenti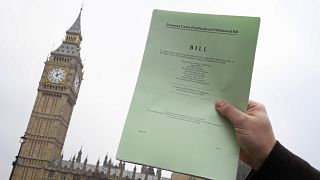 Il risultato del referendum sulla Brexit ancora non impatta sull'economia britannica. Nel quarto trimestre del 2016 il Prodotto Interno Lordo del Regno Unito ha registrato un aumento dello 0,6%, rispetto ai tre mesi precendenti. Il dato è migliore alle attese degli analisti.
Latest #GDP stats from the ONS</a> show the economy growing by 0.6% in the last three months of 2016: <a href="https://t.co/8WbsgAv4IL">https://t.co/8WbsgAv4IL</a> <a href="https://t.co/KCThFnbjgy">pic.twitter.com/KCThFnbjgy</a></p>&mdash; HM Treasury (hmtreasury) January 26, 2017
Soddisfatto il cancelliere dello Scacchiere Philip Hammond che vede in questo risultato la possibilità per il Regno Unito di prosperare anche al di fuori dall'Europa.
And here's my reaction to this morning's ONS</a> GDP figures <a href="https://t.co/ycQHgiPZdt">pic.twitter.com/ycQHgiPZdt</a></p>&mdash; Philip Hammond (PHammondMP) January 26, 2017
Ma gli esperti ricordano che l'uscita dall'Unione non è ancora avvenuta e sostengono che il peggio debba ancora venire. Dopo la Brexit, infatti, il probabile indebolimento della sterlina farà aumentare l'inflazione, raffreddando la fiducia dei consumatori e rallentando le spese che ora trainano la crescita.
Per il momento intanto crescono tutti i settori dell'economia, tranne quello
legato all'agricoltura, con i servizi in evidenza.
0.6% rise in #GDP in Q4 2016, with growth dominated by the service sector https://t.co/B1ssP0gbL3

—

ONS

(@ONS) January 26, 2017
Un settore, esattamente come quello della finanza, legato a doppio filo al mercato unico. Da cui il Regno Unito uscirà presto, come continua a ripetere il primo ministro Theresa May.