La protesta dei camerieri di Harrods: "Rubate le nostre mance"
Commenti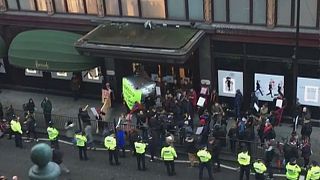 Scontri con la polizia, strade bloccate, lancio di un fumogeno e due arresti. Succede a Londra, fuori dai grandi magazzini Harrods. I camerieri e gli altri addetti alla ristorazione accusano l'azienda di trattenere fino al 75 % delle mance. Per questo hanno protestato in pieni saldi al grido di 'Harrods ruba le mance dei camerieri'.
If you're angry about harrods</a> stealing the tips of low paid staff, come to our protest on Sat 7 Jan, 2pm. <a href="https://t.co/sMzuc2yb20">https://t.co/sMzuc2yb20</a> <a href="https://t.co/gcFzDyXpnu">pic.twitter.com/gcFzDyXpnu</a></p>&mdash; UVW (UVWunion) 2 gennaio 2017
La cifra sottratta ai lavoratori, secondo il sindacato United Voice of the World , ammonterebbe a 5.000 pound annuali per ogni membro dello staff ristorazione (circa 450 lavoratori per sedici punti ristoro).
Il problema non è nuovo ed è generalizzato, tanto che il governo a maggio ha evocato l'ipotesi di legiferare sul tema. Harrods, da parte sua, fa sapere che il sistema interno di ripartizione delle mance è in revisione e che quando questa sarà completata, tutti i dettagli saranno comunicati ai dipendenti.