USA-Taiwan, prove di disgelo con Pechino ma la Cina mette in guardia Washington
Commenti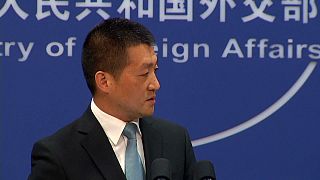 Una telefonata che continua a sollevare polemiche. Il colloquio telefonico di venerdì notte tra il presidente eletto americano Donald Trump e la presidente di Taiwan Tsai Ing-wen sarebbe stato solo un modo per congratularsi della vittoria del tycoon. Almeno questo è quanto afferma la stessa Tsai, aggiungendo che i legami con gli Stati Uniti sono molto importanti e sollecitando la Cina a riavviare un confronto quanto prima per trovare una soluzione ai problemi che separano Pechino e Taipei.
The President of Taiwan CALLED ME today to wish me congratulations on winning the Presidency. Thank you!

— Donald J. Trump (@realDonaldTrump) 3 dicembre 2016
Le relazioni diplomatiche sono sul filo del rasoio. Per il portavoce del Ministero cinese degli affari esteri, Lu Kang, il rispetto dei principi relativi alla politica di una sola Cina è la base necessaria per lo sviluppo delle relazioni con il Paese.
Did China ask us if it was OK to devalue their currency (making it hard for our companies to compete), heavily tax our products going into..

— Donald J. Trump (@realDonaldTrump) 4 dicembre 2016
Intanto dopo il polverone relativo gli attacchi via twitter alla Cina, Trump cerca di ricucire lo strappo nominando un amico di Xi Jinping come prossimo ambasciatore Usa a Pechino, ovvero il governatore dell'Iowa. Nonostante le prove di disgelo, Pechino mette in guardia Washington su un possibile viaggio tecnico della presidente Tsai a New York, forse già il prossimo mese. Un incontro che se dovesse avvenire, ha ammonito il presidente cinese, avrebbe effetti pesanti, specie dopo la telefonata tra i due. Una telefonata che ha rotto il protocollo di oltre 40 anni sul bando delle comunicazioni dirette, mandando su tutte le furie Pechino che considera Taiwan una provincia "ribelle" destinata, prima o poi, a ritornare sotto il suo controllo.