Donald Trump, un presidente dai "primati insoliti"
Commenti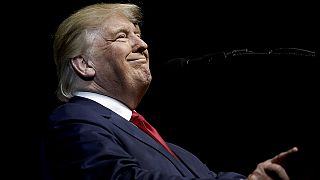 Perché Donald Trump è diverso dai precedenti presidente USA
Patrimonio miliardario
Secondo quanto dichiarato Donald Trump, il suo patrimonio si attesta intorno ai dodici miliardi di dollari. Secondo quanto diffuso dal Billionaires Index di Bloomberg, la ricchezza del nuovo presidente USA si aggira su 2,9 miliardi di dollari, mentre secondo Forbes il patrimonio è a quota 4,3 miliardi. Gli unici dati su cui ci si può basare sono, tuttavia, quelli contenuti nella documentazione rilasciata alla Federal Election Commission. Cifre da capogiro.
Di sicuro c'è che Trump è il primo miliardario ad essere eletto alla Casa Bianca.
Il tycoon repubblicano, tuttavia, non è il primo presidente che proviene da un ambiente dell'alta società. John F Kennedy, per esempio, nacque in una famiglia molto ricca e anche Theodore e Franklin Roosevelt non proveniva certo da ambienti della classe media.
Here's the interior of Trump's apartment in #TrumpTower. Can you imagine what the White House would look like if he wins? Kremlin Palace 2.0 pic.twitter.com/zbMMZFw4OB

— Pure Cynicism (@PureCynisism) 30 octobre 2016
Età
Uno dei "temi" su cui Trump ha calcato spesso la mano, durante tutta la sua campagna elettorale, è stata la salute "incerta" della non più giovane Hillary Clinton. Una carta che ha fatto spesso sorridere gli avversari, visto che Trump ha compiuto 70 anni lo scorso 14 giugno. Mentre la Clinton di anni ne ha 69.
Nonostante la sua verve, Trump è il presidente più anziano ad essere eletto, togliendo lo scettro al repubblicano Ronald Reagan (in caricva dal 1981 al 1989) che fu eletto a 69 anni ma fu anche il più longevo (93 anni) dopo Gerald Ford.
Trump sarà quindi il primo settantenne a varcare lo Studio Ovale.
Unbelievable evening in New Hampshire – THANKYOU! Flying to Grand Rapids, Michigan now.
Watch NH rally here: https://t.co/5ajbpTtQuKpic.twitter.com/cdRfnxIZqj

— Donald J. Trump (@realDonaldTrump) 8 novembre 2016
Una reputazione politica da costruire
Il monumento a Washington presso il centro commerciale; l'aeroporto John F. Kennedy di New York, il Lincoln Memorial a Washington DC sono tutti monumenti o luoghi intitolati alla memoria dei passati presidenti degli Stati Uniti.
Senza contare altri edifici come scuole, biblioteche o centri culturali.
Donald Trump possiede già un grattacielo che porta il suo nome: la "Trump Tower", un edificio sulla Fifth Avenue a New York, sede della residenza del miliardario e del suo impero economico. Proprio qui fu registrato il programma tv "The Apprentice", creato da Mark Burnett e con Donald Trump nei panni del "Boss".
Conoce al multimillonario #mexicano tiene tres 'depas' en la #TrumpTower de #NY. pic.twitter.com/igCNvZhM7w

— BizNext (@BizNext_) 30 octobre 2016
Inesperienza politica
Se Hillary Clinton è stata senatrice e Segretario di Stato, Donald Trump è alla sua prima esperienza politica.Di fatto è il primo presidente degli Stati Uniti ad assumere una carica così importante, pur essendo alle prime armi.
Barack Obama aveva alle spalle un decennio di attivismo politico prima del 2008 e persino Reagan, con un passato da attore di Hollywood, aveva avuto una carriera politica prima di diventare presidente.
ICYMI! Old footage from #TheApprentice reveal lots more of #DonaldTrump's scary statements! https://t.co/Yw3qwQ1Jk1pic.twitter.com/ShMUk2ORe1

— Perez Hilton (@PerezHilton) 30 octobre 2016
Matrimoni e divorzi h3>
Finora l'unico presidente USA divorziato fu Reagan che portò alla Casa Bianca la seconda moglie Nancy. Ora è arrivato Trump.
Il tycoon Donald Trump ha cinque figli e si è sposato tre volte.
Dalla prima moglie Ivana Marie Zelníčková (Trump), con cui è stato sposato dal 1977 al 1992, ha avuto tre figli. Dalla seconda moglie Marla Maples, con cui è stato sposato dal 19 dicembre 1993 all'8 giugno 1999, da cui ha avuto una figlia. Infine c'è l'attuale consorte: Melania Knauss, sposata nel 2005 e dalla quale ha avuto l'ultimo figlio.
The Melania Trump immigration story was a case of bad reporting: https://t.co/DywB1KoKX1pic.twitter.com/Z0vUny0sGV

— Slate (@Slate) 14 septembre 2016