NFL: Kaepernick non si alza all'inno, ancora polemiche
Commenti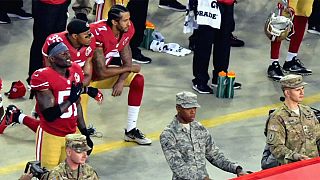 Negli Stati Uniti, non si smorza la polemica inerente la protesta che ha visto protagonista Colin Kaepernick, quarterback dei San Francisco 49ers.
Prima del match contro i Green Bay Packers, Kaepernick era rimasto seduto durante l'inno nazionale per protesta contro il razzismo e la violenza della Polizia nei confronti della comunità afro-americana, scatenando ancora, a distanza di due settimane, una serie di reazioni discordanti.
"Ho sentito commenti ridicoli – dice -, non sto in piedi per dimostrare il mio orgoglio per la bandiera di un Paese che opprime i neri e le minoranze etniche, per me è più importante del football. A chi critica consiglierei di avere una conversazione con le famiglie delle persone uccise e capire, non far finta di niente perché non ha vissuto quel tipo di oppressione".
Numerosi i supporters che hanno bruciato la maglietta del quarterback, la più venduta della NFL, così come sono in molti a difendere la sua scelta.
Per trovare una simile protesta politica nello sport a stelle e strisce, occorre risalire ai Giochi Olimpici del 1968 a Città del Messico e ai pugni chiusi di Tommy Smith e John Carlos, esibiti durante la premiazione dei 200 m.
"Si sa che non abbiamo bombardato nessuno nel '68, al pari di Kaepernick – afferma Carlos -, quei ragazzi in piedi stanno dicendo: Qualcosa si è rotto, l'abbiamo capito da tempo; non domani, non l'anno prossimo, il problema è in crescita, iniziamo a risolverlo".
Checkout my recent interview on the National weighing in on the Colin Kaepernick protest sporting my official 47… https://t.co/UnLysRAg7Y

— John Carlos (@DrJohnCarlos) 4 septembre 2016
L'undici settembre, la protesta innescata da Kaepernick è stata appoggiata dal cornerback dei Kansas City Chiefs, Marcus Peters, che ha ascoltato l'inno col pugno alzato e guantato di nero, e da quattro giocatori dei Dolphins, che invece sono rimasti in ginocchio.