Nba: Curry stellare, Warriors a meno quattro dalla storia
Commenti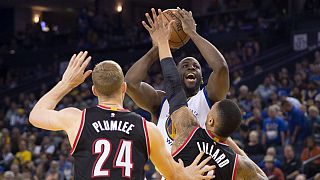 Meno quattro. I Golden State Warriors riscattano il ko con Boston e battono Portland 136-111, avvicinandosi al record di successi in una singola stagione, stabilito dai Bulls di Jordan vent'anni fa. Ai Warriors basterà vincere tre delle ultime cinque partite per eguagliare la fatidica quota 72, una in piu' per fare la storia.
Draymond to SDot for the smash on CSNBA & NBA TV. https://t.co/cawWGTjP5V

— GoldenStateWarriors (@warriors) 4 aprile 2016
Non sarà facile per i campioni in carica, che in calendario hanno due sfide con gli Spurs. Ma con un Curry in questo stato di forma, tutto è possibile. L'MVP dello scorso anno ha chiuso la gara con 39 punti e il 9/13 dalla lunga: un'altra serata in ufficio per il fenomeno dei californiani.
See how the #Warriors became the 1st team in NBA history to eclipse 1000 three-pointers in a single season.https://t.co/8OsyGrU2na

— GoldenStateWarriors (@warriors) 4 aprile 2016
La squadra di Kerr ha inoltre infranto un altro record, diventando la prima squadra Nba a segnare mille triple in stagione. Inutili, per i Blazers, i 38 punti di Lillard.