Il Papa in Repubblica Centrafricana: "Non abbiate paura delle diversità etniche, politiche o religiose"
Commenti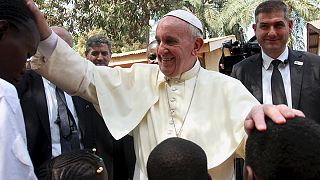 Sono stati i bambini ad accogliere Papa Francesco nel campo profughi della parrocchia del St. Sauveur a Bangui, capitale della Repubblica Centrafricana. Il pontefice, che si è definito pellegrino di pace e apostolo di speranza, ha invitato tutti all'impegno per la pace, qualsiasi sia la loro cultura, la religione o lo stato sociale.
I come to the Central African Republic as a pilgrim of peace and as an apostle of hope.

— Pope Francis (@Pontifex) 29 Novembre 2015
Bangui è la terza e ultima tappa del viaggio in Africa del Papa. Proprio nella cattedrale della capitale verrà aperta la porta santa che segnerà l'inizio del Giubileo della misercorida.
All'aeroporto Bergoglio era stato accolto da Catherine Samba-Panza, presidente di transizione di un Paese dilaniato dai conflitti e colpito da una drammatica crisi umanitaria. Il capo di Stato ha chiesto perdono per i crimini abominevoli commessi in Centrafrica in nome della religione.
Nell'incontro il Papa ha anche voluto richiamare l'attenzione sulla responsabilità nello sfruttamento delle risorse ambientali, nelle scelte e nei progetti di sviluppo che influenzano il pianeta intero.