Barcellona: Messi recupera, in campo con il Celta
Commenti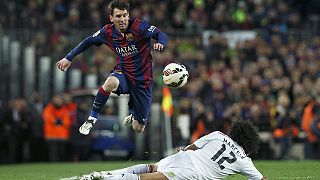 Luis Enrique potrà contare su Lionel Messi per la gara di campionato contro il Celta Vigo in programma domenica. Una botta al piede aveva costretto il numero 10 del Barcellona a guardare dalla panchina le amichevoli dell'Argentina contro El Salvador ed Ecuador. Uno stop precauzionale che gli ha permesso di smaltire l'infortunio.
Celta and Leo Messi among the topics in Luis Enrique's Saturday press conference #FCBlivehttp://t.co/wxgJEa8ngepic.twitter.com/t9T0vDbzDK

— FC Barcelona (@FCBarcelona) 4 Aprile 2015
"Messi subisce molte botte in ogni partita – sottolinea Luis Enrique, tecnico dei catalani -. Sono dolorose, ma niente di più. Ora sta bene, da quello che ho potuto vedere in allenamento le sue condizioni sono perfette. Leo è abituato a ricevere tanti colpi dai difensori. Sa perfettamente, come tutti gli attaccanti, che anche questo fa parte del gioco".
Messi, dopo un avvio di stagione difficile, è il capocannoniere della Liga con 32 reti, mentre il Barcellona è in testa al campionato con 4 punti di vantaggio sul Real Madrid a 10 giornate dal termine.