Sempre più Vonn. Sua per la settima volta la Coppa di discesa
Commenti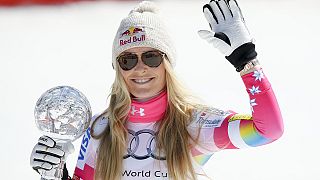 Lindsay Vonn conquista la 7a coppa di discesa e la 18a di specialità della sua carriera.
Sulle nevi francesi di Meribel, la sciatrice statunitense archivia definitivamente le due operazioni al ginocchio e dimostra di essere a pieno titolo tornata in pista.
Lindsey Vonn won World Cup season title No. 18 on Wednesday, one shy of the all-time record. http://t.co/67sDyuDr2Mpic.twitter.com/WbBHbUvlHn

— NBC Sports (@NBCSports) 18 Marzo 2015
Prima con il crono di 1'29"87, la Vonn precede sul podio le austriache Elisabeth Görgl e Nicole Hosp. Ad attenderla è ora la sfida del SuperG: se anche lì conquistasse la coppa di specialità, toccherebbe quota 19 ed eguagliarebbe il record dello svedese Ingemar Stenmark.
Il quarto tempo ottenuto dI Tina Maze la avvicina intanto sempre di più in classifica generale ad Anna Fenninger – ottava a Meribel -, trasformando la loro corsa per la Coppa assoluta in un rush finale al cardiopalma.
[#DH Women] And the winner is... @lindseyvonn ! What a Champion in @Meribel3vallees for the @MeribelWorldCup Finals pic.twitter.com/QKrEP8p4VQ

— Méribel World Cup (@MeribelWorldCup) 18 Marzo 2015
Strappato lo scorso anno il Globo di cristallo proprio alla slovena, che lo aveva vinto nel 2013, la Fenninger la precede ora in classifica generale di soli 12 punti: una manciata appena, che nei prossimi giorni, sulle piste di Meribel, potrebbero sciogliersi come neve al sole.