Al Super Bowl è Seattle-New England. Seahawks rimonta da brivido
Commenti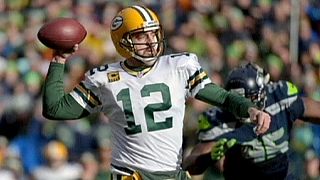 Una fiammata di Russell Wilson salva i Seattle Seahawks dal baratro e li proietta a caccia della seconda vittoria consecutiva del Superbowl. Al sogno di una doppietta storica, i campioni in carica arrivano però dopo un sofferto inseguimento ai Green Bay Packers, che partono fortissimo e all'intervallo ammutoliscono il pubblico di Seattle con un impressionante 16-0.
More @CBCSports on #SeattleSeahawks advancing to #SuperBowlXLIX with a come-from-behind win over #GreenBayPackers: http://t.co/Vcha66Ai4h

— CBC News Alerts (@CBCAlerts) 19 Gennaio 2015
Marshawn Lynch prende poi per mano i suoi: il running back macina yard e punti fino al 28-22, che decide l'incontro ai supplementari.
MIRACLE! Monday's front page at Seattle Times after Seahawks win NFC title @seattletimes@SeaTimesSportspic.twitter.com/SDOcnMO0jO

— Rich Boudet (@richboudet) 19 Gennaio 2015
L'appuntamento alla finalissima del primo febbraio è ora con i New England Patriots, che nella finale della American Football Conference hanno schiacciato Indianapolis con un 45-7 che non ammette repliche.
We're going to the SHIP! https://t.co/z5j9TgUUz7

— New England Patriots (@Patriots) 19 Gennaio 2015
La squadra di Boston, al 6° SuperBowl in 14 anni, va ora a caccia del 4° titolo, ma allo University Phoenix Stadium si troverà davanti dei Seattle Seahawks, determinati a non mancare l'appuntamento con una storica, seconda vittoria consecutiva.